John Crane Bellow Seal Bellows Mechanical Seal Type152/ Wb2
Bellows Mechanical Seal Type152/ Wb2
Operating range:
Equivalent to John Crane WB2 seal
PTFE bellows design, Outside mounted,used in strong corrosive chemical occasionsStructure: Single End
Pressure: Low Pressure Mechanical Seals
Speed: Medium Speed Mechanical Seal
Temperature: General Temperature Mechanical Seal
Performance: Wear and Corrosion
Standard: JB/T7372-94
Model NO.: WB2 (Type 152)
Balance: Balanced
Specification: Inner Diameter: 20 mm to 100 mm
Temperature:-20℃-220℃
Speed:≦16M/S
Pressure:≦1.50Mpa
Size = 18mm to 100mm
0.75" to 4"
Material:
Rotary Ring Face: Filled PTFE (Teflon)/SiC
Stationary Ring Face: Al2O2/SiC/Carbon
Elastomers: PTFE
Metal Parts: SS304/SS316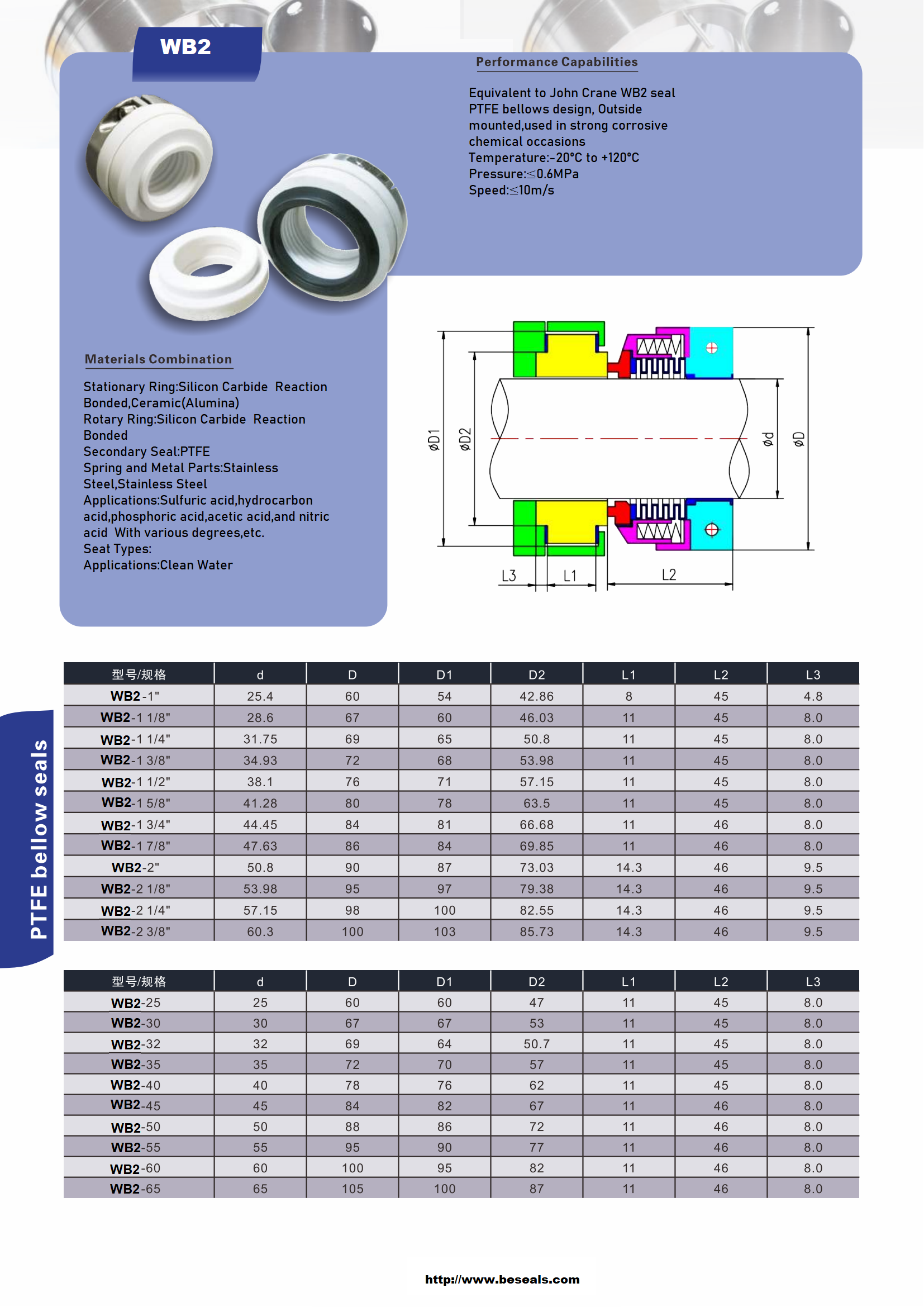 WB2 (Type 152) PTFE Bellow Mechanical Seal for Acid Proof Pumps, Plastic Pumps, Alkali Pumps, and Vacuum Equipment
Structural Features: single end, balanced, independent direction of rotation, PTFE bellow, bellow transmission, external type mechanical seal.
This component is easy to install. The bellow provides pressure compensation to the sealing faces. The bellow design can prevent radial
runout so the floatability of the rotary ring is increased.
We are always committed to the imported mechanical seals localization and have accumulated a wealth of experience .
Our product range includes Component Seals, Metal Bellow Seals, Cartridge Seals, Agitator seals, Dry Gas Seals and Split Seals.
To great our service, we present the products and solutions while using the very good top quality at the reasonable cost for MFL85N/680/ Metal Bellow Mechanical Seals. To ensure you get what exactly you
need, our professional team will help you work through all the details straight to your target. With our powerful team support, you would not have to worry about anything. Our company establishes the
management system in strict accordance with the requirements of international standards and makes detailed after-sales service commitment.
Products Category
Contact Us
Name: Leo Zhang
Tel: +86-13067871876
E-mail: [email protected]
Add: Building 2, No. 12, Shengdi Road, Yuhang street, Yuhang District, Hangzhou