Mechanical Seal for Metal Bellows Seal John Crane Type 676
Mechanical Seal for Metal Bellows Seal John Crane Type 676
Operating Rang:
Equivalent to John Crane metal bellow seal type 609
Welded metal bellows design
Temperature: -20---400℃
Speed: 20m/s
Pressure: 25bar
Standard size: 1.0''-4.0''
Material:

Face: Carbon, SiC, TC
Seat: Ceramic, SiC, TC
O-ring: NBR,EPDM,FKM etc
Spring: SS316, hastelloy C, Am350
Metal parts: SS316, hastelloy C
676 is a high-temperature (to 425°C/800°F) rotating seal head assembly that incorporates all of the rugged features of the THIJO SDKJFAJF, but is intended for those
demanding applications where a dependable, high-strength, rotating seal is preferred. A narrow cross-section design enables the SS609 to fit in the most popular pumps
without expensive and time-consuming seal chamber modifications. This makes it the ideal seal for heat transfer, hydrocarbon and other applications that commonly use
pumps with limited seal chamber clearances. Typical applications include hot hydrocarbons, aqueous solutions, aromatic fractionation products, crude oil fractionation
products and heat transfer fluids.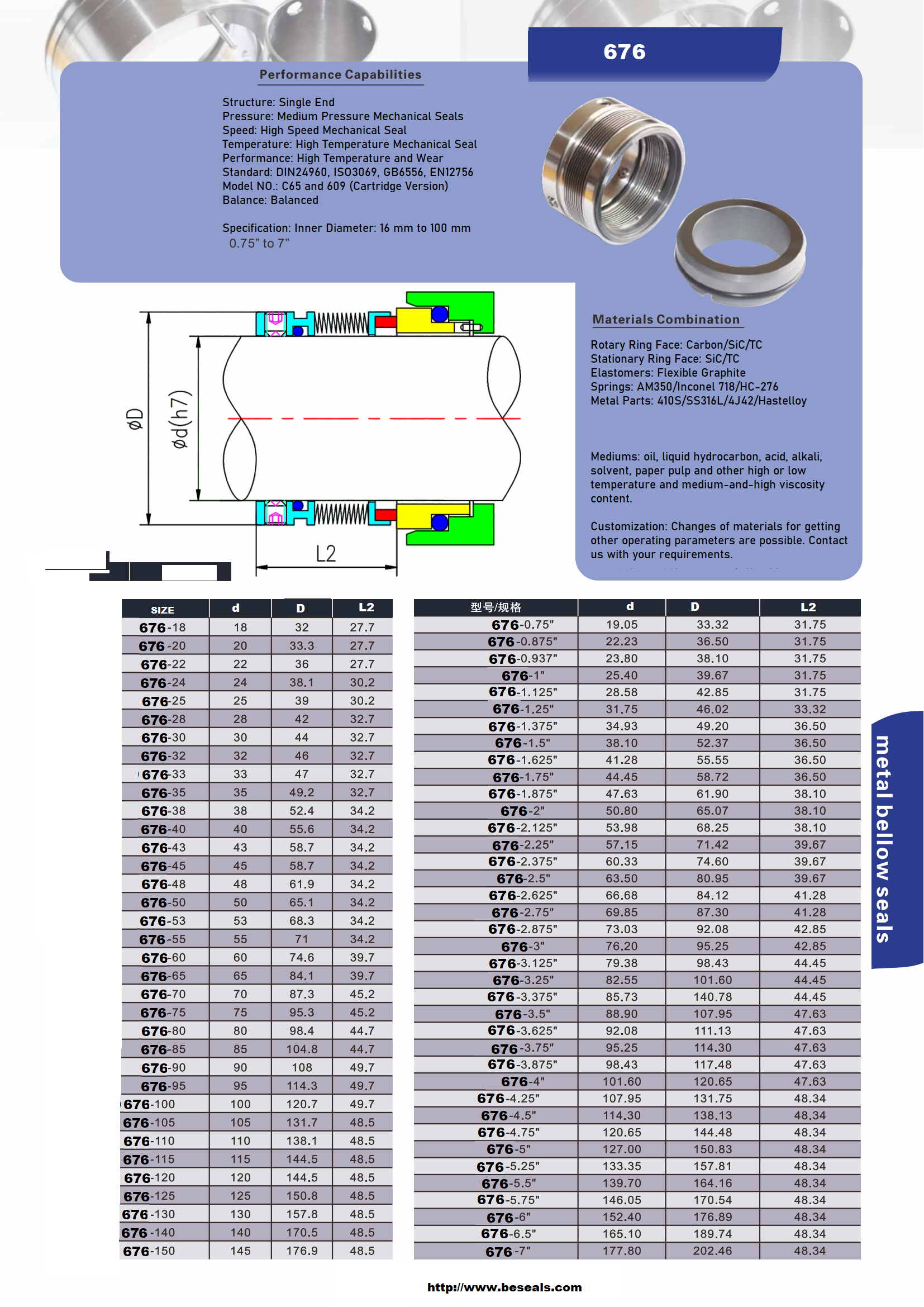 We are always committed to the imported mechanical seals localization and have accumulated a wealth of experience .
Our product range includes Component Seals, Metal Bellow Seals, Cartridge Seals, Agitator seals, Dry Gas Seals and Split Seals.
To great our service, we present the products and solutions while using the very good top quality at the reasonable cost for MFL85N/680/ Metal Bellow Mechanical Seals. To ensure you get what exactly you
need, our professional team will help you work through all the details straight to your target. With our powerful team support, you would not have to worry about anything. Our company establishes the
management system in strict accordance with the requirements of international standards and makes detailed after-sales service commitment.
Products Category
Contact Us
Name: Leo Zhang
Tel: +86-13067871876
E-mail: [email protected]
Add: Building 2, No. 12, Shengdi Road, Yuhang street, Yuhang District, Hangzhou